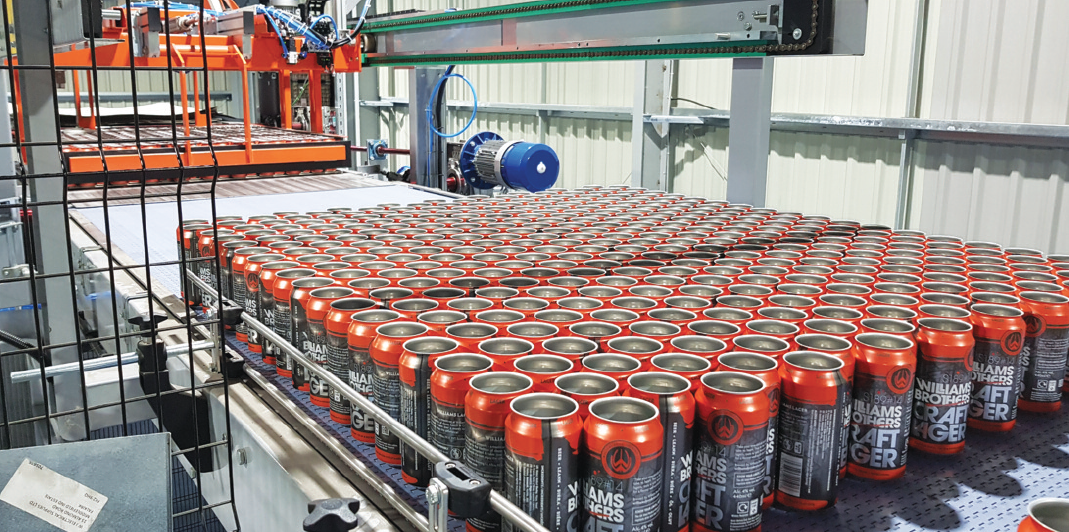 Now firmly established as one of Scotland's largest independent breweries, Williams Bros act as a central hub for the bottling, canning and packing of many of the country's best craft beers.
Building on this legacy Williams Bros. saw the need to offer a high quality canning facility. The decision was made to partner with Enterprise Tondelli to develop the layout, integrate into an existing capacity and supply of the canning line equipment.
As this is an investment for the future, traditional mechanical filling valve technology was rejected due to the higher maintenance, reduced flexibility, less accurate fill volumes and less control experienced on these machines.
A can filler /seamer manufactured in Italy by Matrix srl of Parma was selected. Enterprise has supplied a number of these machines worldwide to some 'blue chip' companies, due to their innovative nature and after sales support. This machine uses electro-pneumatically controlled valves for control of the CO2
purging, snifting etc, all of which can be controlled and preset from the operator panel and for the differing fill characteristics of the various beer types.
Additionally each filling valve has a flow meter so that beer volumes are measured and the vent tube no longer touches the product reducing fobbing. The cans are static with no lift cylinders and the movement of the valve is only minimal with very few moving parts due to flow meters being used. A central filling bowl with a CIP spray ball and the automatic multiple step CIP ensures better hygiene and also lower product
wastage at the end of production. Low TIPO was also important.
Part of the project was to increase automation so that personnel can be better utilised therefore a high level combined bottle and can depalletiser from Enterprise installed. This design allows both bottles and cans to be automatically depalletised and sent to the can filler or existing glass filler via a pad type lowerator from Eurosistemi Srl.
For further information visit www.enterprisetondelli.co.uk