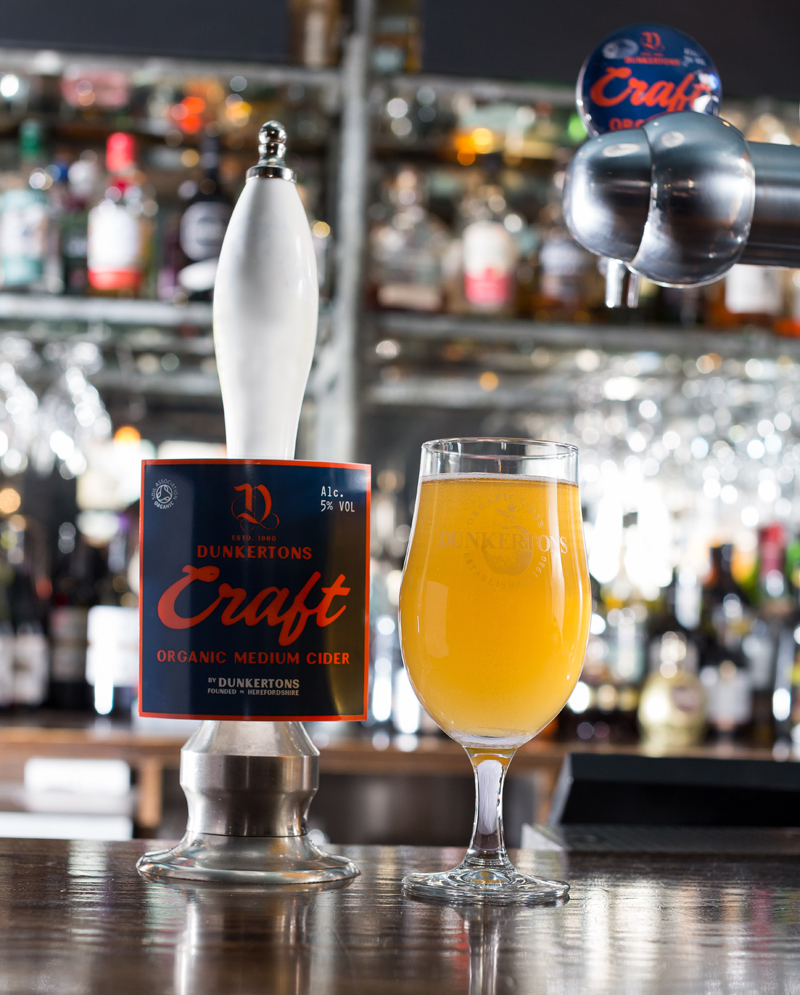 Blended with 100% fresh pressed organic apple juice and matured for over 12 months , 'Craft' by Dunkertons Organic Cider at 5% ABV is both full bodied and refreshingly easy to drink, making it the perfect cider for those looking to break away from the mainstream and introduce more artisanal and flavourful ciders to their palate.
The vibrant orange and bold navy branding of 'Craft' instantly catches the eye and clearly stands out amongst their competitors and the rest of the more traditional Dunkertons cider range.
In the late 70's Ivor & Susie had a vision to leave their hectic London city life to live and work in the countryside and moved to Pembridge, Herefordshire. Ivor and Susie decided to plant cider apple and perry pear varieties carefully selected for their cider making qualities and grown in accordance with organic principles. In 1988 Dunkertons Cider became the first cider company certified to Soil Association standards for growing and producing cider. For almost 40 years, the company has been focused on growing cider apples and perry pears in harmony with the environment to help sustain the natural eco-system. The juice is matured as single varieties for over 12 months and hand-blended using traditional skills that help to draw out a richer flavour, full of depth. In 2016 production moved to a new purpose built cidery in Cheltenham, Gloucestershire but the majority of apples still come from their own orchards in Pembridge, Herefordshire.
Jeremy Benson, co-owner of Dunkertons Cider, said:
"After years of perfecting the blend, it's wonderful to have introduced 'Craft' to the market, and the feedback we've had from customers has certainly proven to us that the hard work was totally worth it. Whilst many of the other ciders in our range sit around the 6.8-7.5% ABV mark, our new 'Craft' organic cider is more accessible at 5% but still brimming with our deep apple flavours and delivering a moreish and well-rounded finish. In general, consumers are now much more discerning when it comes to the drinks they are purchasing and take the environmental and social impact of a choice into consideration much more than they ever did in the past. This, coupled with the growth in premium cider and the fact £45m a week is spent on organic products in the UK, is why we are confident 'Craft' will encourage new customers to try Dunkertons cider for the first time.
"As we approach our 40th birthday, we are so proud to continue our cider and perry production with the traditional core values and beliefs that Ivor and Susie established back in 1980. Studies show organic orchards support 50% more wildlife than sprayed orchards. This ensures our local bee population thrive who in turn pollinate our blossom which results in wonderful juicy cider apples and perry pears. As well as the positive impact on the environment and wildlife, food made without pesticides and chemicals has also proven to be beneficial to our health.
For more information visit www.dunkertonscider.co.uk.